Discover more from Authorstrator
Writing stuff. Drawing stuff. You know, a newsletter.
If you caught the last newsletter, you'll know the start of August marked one year of Authorstrator, AND the occasion came with the added bonus of Authorstrator being selected as a Substack 2023 Selected Publication! This was totally unexpected and made me feel that hey - maybe there's something to this little newsletter experiment of mine. Since then, I've been doing a lot of reflecting and evaluating and deciding what comes next for Authorstrator. And to get to what comes next, I am trying to reflect on what I've learned about being on Substack in that time. Now, it started as an experiment and it's still an experiment. It's all still trial and error and figuring it out as I go. Newsletters are very personal and there are a thousand ways to 'stack'. I haven't got it all figured out but I've had a lot of fun trying and I've come to learn a few things about how I make Substack work for me. So I thought I'd share them, in case you're also figuring it out. I'm sharing my notes in hopes there's something useful for you!
Try things you're not sure of
I wasn't sure about a newsletter as a whole. And within that, every time I go to come up with a topic for a post, I'm often very unsure about how it will be received. After a year, I've noticed that the posts I am MOST unsure about are the ones that get the most response. So be brave, and trust your gut. If it's interesting to you, it will be interesting to someone else - by showing up, your readers are showing they're your kind of awesome folk.
Experiment with different features
You know how I feel about technology. It makes me frustrated, anxious and confused. But I don't let that stop me! I experiment with every new feature Substack adds to the platform. Some work for me. Some don't. I ignore the ones that don't and lean into the ones that do. I really love Substack Chat and how it lets me have conversations with my readers. It's a great space to find out more about them, what they're interested in, and what they're working on as well as trying out new ideas for bigger posts and generally just talk nerdy things like movies and books and such.
Consistency is key
This one is pretty standard advice, and its usually about making sure you publish at the same time each week. But consistency is not just about the posting schedule! It's also about structure. I try to keep the structure more or less the same with each post. It helps me organize my topics and lets readers know what to expect each week. And that's really the most important thing to me - making sure readers are getting what they expect to get each post. Meeting expectations.
Read other Substacks
This is basic advice from the writing world in general - if you want to write in a space, you have to know what's out there. Read in that space. Write a Substack? Read other Substacks! What are other writers doing? What are Substacks outside your niche doing? Be inspired!
Stats don't matter, but they can be insightful
I'm allergic to numbers so the "stats" tab on Substack has largely gone unclicked in most of my time here. Open rates and unsubscribes - growth baby! -  it all felt like social media noise and I didn't really want to bother. I've learned the hard way you can get real caught up in likes and follower counts if you let yourself. However, I keep reading about other writers and how they use their stats on Substack not just to grow, but to better understand their audience. And it's true! Its good to know what topics resonate with readers, what they like to see, how they read the post (email or online, etc). It's not about big numbers and growing numbers and all that social media noise. It's about understanding the readers you have. 
Take as much care with your about page as your posts - probably more
I think the About page is very important, don't neglect it! For so many readers, it's their second point of contact. If a post catches their interest, the very next thing a reader will do is check out the About page to find out what the newsletter - and the writer! - are all about! So make an impression on the reader, take time with the about page. Introduce yourself. Tell them what your newsletter is all about. It's not set in stone, you can always go back and change it. I am constantly refining mine. It's a way to introduce yourself, so go for it! Showcase that personality!
So there you have it. One year. And that's what I've figured out so far. I'm sure I'll learn more as I continue with this funny little newsletter experiment of mine. The important thing is that I tried something new, and I keep trying new things as I go and I think that's been my biggest take away this year. Try new things. Experiment. And I'm excited to learn more as we start on year 2 of Authorstrator!
DOODLE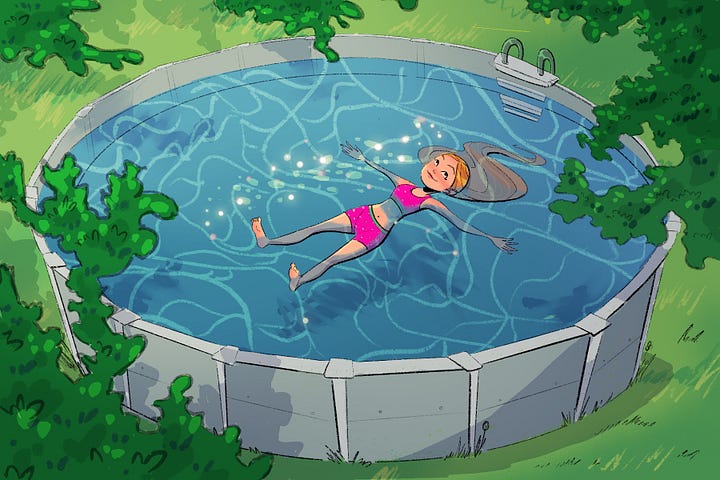 WHAT I'M WORKING ON
The publication date for my AI book was recently pushed back, and that's ok - that gives me time to work on other things - like my Oz book! I've made great progress in the last week and its mostly because my writing buddy
and I have gotten serious about our page swapping. I feel really good about this book being done by Christmas. And I've invited Alisha to talk writing buddies on Authorstrator so look out for our joint post in the coming weeks!
I was invited to give a writing workshop to a kids camp this week, so I'm excited to talk worldbuilding and writing for fantasy with young writers. We work together on building a fantasy world as a group based on random word prompts we come up with together and it's always fun and surprising to see what students come up with. I can't wait!
And finally, the latest chapter of Zombie Shark Highway are up! Chapters 3 & 4 are now available and if you've missed chapters 1 & 2 you can find all the posted ZSH chapters here. Chapters 5 & 6 coming this week so look out for them - or if you want to go ahead and read the whole thing, you can subscribe to the Goody Tier to access the ebook here!
What I'm Reading
I just ordered The Girl in the Tower, book 2 in the Winter Night trilogy by Katherine Arden. I'm late to the party but I recently finished The Bear and the Nightingale and LOVED it.
This post about summer nostalgia from
was an absolute delight, highly recommend.
And that's it for this week! Are we halfway to September ALREADY?!